CBC's Scott Russell takes Ski Canada's Ian Merringer down the Road to the Olympic Games.
Scott Russell is the on-air face of alpine racing in Canada. Now preparing to cover his 14th Olympic Games in February 2018, the CBC broadcaster has had an intimate view of Canada's alpine ski teams for longer than anyone. Ski Canada spoke with him about whom to watch next winter in Pyeongchang, South Korea, the state of the team, ski racing's future, drone crashes and what he thinks about moguls.
[Ed. note: On February 8, 2017 Erik Guay took gold and Manny Osborne-Paradis bronze in Super-G at the World Ski Championships at St. Moritz. Erik 2nd in DH Feb. 12.]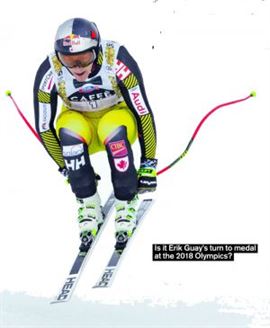 SKI CANADA: The 2018 Winter Olympic Games are in South Korea. Which Canadian  gate-crashers are you keeping an eye on?
SCOTT RUSSELL: It's great to watch the development of Marie-Michèle Gagnon, now carrying the ball for the women's team. She has the ability to strike at the Olympics, in more than one discipline.
And I'd like to see how Dustin Cook does. He had a great season and then lost a full season to injury. This will be the first Olympics where he is a real factor.
But my favourite storyline has to be that of the veteran, Erik Guay. The guy has won everything, with the exception of an Olympic medal. It's very compelling to see a character feel a sense of longing for something that he or she doesn't have. In Erik's case, what personally drives him is getting to the Olympic podium. He's been a World Champion; he's the most prolific World Cup racer in the country's history. He's a family man in his mid-thirties now, but he still doesn't have that Olympic medal and he wants it desperately. He's been so close before, both in 2006 and 2010. Will he get it? That, to me, is a great storyline to watch.
SC: If you canvass a lift line and ask skiers to name five Canadian ski racers, you wouldn't find many who could. How does that compare to Europe?
SR: The top racers in Europe are, quite simply, iconic figures. You think of names like Hermann Maier, Katja Seizinger, Didier Cuche, Marcel Hirscher—and his career still has a long way to go—these are nothing less than household names because ski racing is a staple sport in Switzerland, Austria and Germany. Those people are seen on prime-time television every weekend. In North America, you can count the household names on one hand, maybe on one finger right now, Lindsey Vonn.
SC: How do you counter that?
SR: FIS [International Ski Federation] has to explore ways to bring the speed to the screen—like Formula One racing and other sports that have made accommodations to bring the excitement of the sport close to the viewer. They had a near-disaster a few years ago when a drone camera crashed a few metres behind Marcel Hirscher during a race, but it has to be done. Whether it's mounting helmets on cameras in some way to bring the point of view of the skier to the screen, or something else. We have to feel the speed, hear the crowd, sense the risk. The mountain as a setting is spectacular. Skiing has that potential over all other sports, and needs to capitalize on that.
SC: What's your favourite race to cover?
SR: Beyond the Canadian appeal of a race at Lake Louise, the prospect of a downhill at Kitzbühel is always a magnificent story. There's history for us there [four consecutive victories by the Crazy Canucks in the early 1980s]. And now you have Erik Guay, who has won just about everywhere but never there. There's the mystique of that ski race and the Hahnenkamm in general. You see the crowds and the treacherous nature of the mountain. It's fantastic to broadcast, in particular when you are doing it with a champion like Todd Brooker. He's had great glory there but also tremendous disaster.
SC: What's happening behind the scenes? Is Alpine Canada healthy?
SR: It has obstacles to overcome. Own the Podium [the federal funding program] is brutal in its decision-making about where to spend dollars. It targets sports that are producing medals. Well, there's been one Olympic medal in the last 20 years for the alpine team. So they say, "Look, we have the potential to produce a whole lot more medals in, say, freestyle or snowboarding or short-track speed skating." They target those and target alpine skiing less. So Alpine Canada is put in a tight spot with tough decisions to make. Should concentration be on the elite program, or should it be focusing on developmental programs and getting more kids into its grassroots base in order to produce the next generation of racers? Maybe that's where they should be focusing their efforts right now. There's no question the men's team is aging. Erik Guay, Manny Osborne-Paradis, Dustin Cook, those guys are getting up there. How are we going to replenish the stock? The challenge is to build from below, to build the base so we can push kids up to the top of the pyramid.
SC: Don't all kids want to see how fast they can go on a pair of skis?
SR: The grassroots talent pool for ski racing is shrinking. It's growing for interpretive sports like freeskiing and snowboarding. That's the long-term challenge, to attract kids to the sport. Part of that is by having kids see it up close at its highest level in their own backyard so they can point to it and say, "I want to do that." Because it's a mountain sport, bringing it close is a challenge, but there are ideas out there. It's interesting to see what snowboarding has done with putting Big Air events downtown. They become spectacles. Why couldn't alpine do that with technical events at Canada Olympic Park at Calgary, if they could build it up a little? Could we do the same at Mont-Sainte-Anne near Quebec City? There are ways to see the spectacle in our own backyard and get kids turned on to it.
SC: Until that happens, what's the best way to keep up, as a fan?
SR: Alpine ski racing is a pillar sport on "Road to the Olympic Games," which airs every Saturday and Sunday afternoon on CBC television. We have rights to every race, except Kitzbühel. Online viewing is the big plus now. Every race, downhill through slalom, will be streamed online at cbcsports.ca. If you want to watch skiing, it's all available.
SC: And when the show's over, do you hit the slopes?
SR: I'm a blue cruiser. I like wide-open spaces. I certainly don't like moguls. I love going to Lake Louise on a beautiful day, I get to the top, I look out and go top-to-bottom. I don't like to stop much. Inevitably, as I'm going down, I'll start singing to myself—Gordon Lightfoot's "Canadian Railroad Trilogy." When I come to that line, "When the wild majestic mountains stood alone against the sun," that's what skiing is all about. I've played lots of hockey; I can't get that sensory rush from hockey. To look out over the mountains and descend with speed and feel the majesty of the thing, it doesn't get any better than that.