RYAN REPORT // October 12, 2017 // By Ryan Stuart
---
Elan partners with White Wilderness Heli Skiing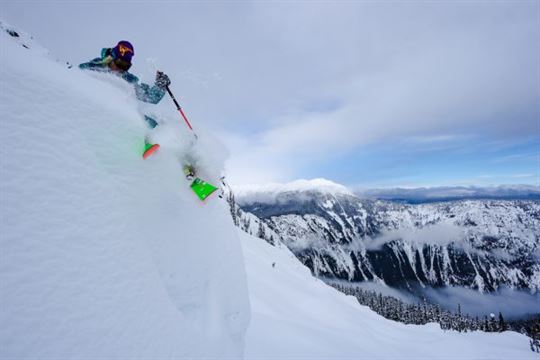 Elan's Ripstick skis are designed for ripping powder, launching cliffs, playing in the trees and arcing huge turns in even bigger terrain. They're a tool at home in the heli-ski world and now they have a partner to help refine the skis further.
Elan Skis and White Wilderness Heli Skiing are teaming up. Elan will provide skis for guests at the Swiss run heli-ski operation in north-central B.C. And White Wilderness will help Elan improve the Ripsticks by testing new technology and future generations of the freeride ski.
"Out of all the heli-ski operations in North America, White Wilderness is the best match for Elan on countless levels," says Elan's Managing Director, Jeff Mechura. "From the terrain to the personality and ambiance to the European roots, our brand and skis couldn't be more aligned with what they offer."
White Wilderness is one of B.C.'s newest heli-ski operations. Based near Terrace the operation runs small group heli-ski packages into a 1500 square kilometre chunk of the Coast Mountains.
We tested several pairs of Ripsticks in Ski Canada's first and second issues of this year.
The partnership extends to a contest. This winter Elan will give away two free trips to White Wilderness via the company's social channels, @elanskis and @wwheliski
RYAN REPORT is a frequent web post by Ski Canada magazine's technical editor, Ryan Stuart.