RYAN REPORT // October 26, 2017 // By Ryan Stuart
---
Website helps with helmet smarts
CSA Z263.1. EN-1077. ASTM F2040. They may look like gibberish but each one stands for a different standard for the testing of snow sport helmets. Explaining the differences is just one aspect of the website HelmetFacts.com.
A product of the company that owns Bell, Bollé, Cébé, Giro, Raskulls and Krash helmet brands, the website presents findings from a testing and development lab known as The Dome.
Based in Scotts Valley, California, The Dome started testing helmets in 1954. The name is an acronym for Design, Observation, Materials, Engineering.
"These four words represent the full scope of our facility," says the company's website. "The Dome's unrivalled resources include more than 50 test fixtures as well as 3D printers, injection molding and thermal molding equipment, an in-house wind tunnel, CNC machines and other equipment required to design, develop, and evaluate new ideas in head protection."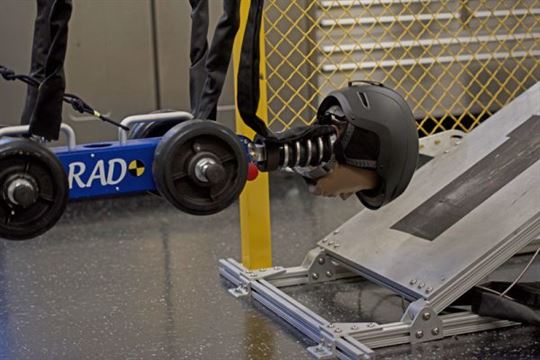 The main focus sports are snow, bike and motor, but The Dome has worked on helmets for auto racing, action sports, tactical, military, hockey, football, baseball and equestrian and supported the development and validation of new ideas in head protection for many brands, including Bell, Easton, Giro, MIPS and Riddell.
While the website and lab is focused on R&D for a handful of brands what they learn is freely available.
"The website is intended to serve as a trustworthy resource for education and information about materials, standards and testing protocols for action sports helmets and head protection," said Thom Parks, Senior Director of Product Safety at Bell Sports. "We saw unmet needs for more information related to head protection. Now, more than ever, we're seeing a lot of confusion and misinformation in the marketplace. The DOME and its engineering staff have taken a leadership role in this arena for more than six decades, so we thought it appropriate to invest the time and energy into educating consumers."
The site's broken into three main areas: materials, standards and design. Each focuses on what consumers need to know before investing in a new lid, including what all those letters and numbers mean.
RYAN REPORT is a frequent web post by Ski Canada magazine's technical editor, Ryan Stuart.