From the Fall 2009 issue
I love rumours. Teen TV drama Gossip Girl makes me want to hurl, but I find it truly intriguing to sit back and observe how quickly and easily misinformation spreads—particularly if Whistler is involved. For example, there seems to be a widely held belief that Whistler had a lousy winter last season. In fact, as I am sitting in a Whistler coffee shop writing this column, the girl behind the counter is telling two people from North Carolina that "last winter was the crappiest ever." And, while we are on the topic of coffee shop fallacies, have you heard the one about Tim Hortons and Starbucks adding MSG to their coffee? Apparently, it's an indisputable fact.
Another misconception that seems to be gaining momentum as February 2010 gets closer is the notion that this winter will be one to avoid visiting Whistler.
Personally, I believe that more than any other, this will be the year to come. My hunch is that outside of the three weeks or so in February when thousands turn up in Whistler for the Olympic events, I don't expect record numbers for the rest of the winter. And like everyone with a future in the rumour business, I have some completely non-objective, anecdotal evidence to support my theory.
In the 2002 Olympic year, skier-visits to the Salt Lake City resorts were down considerably. While visits spiked in both the winter before and after the Games, Ski Utah stats show numbers during the 2001-02 season dropped roughly nine per cent from the previous season. If the experience in Whistler is going to resemble that in Salt Lake, then expect the slopes to be noticeably less crowded this winter. Moreover, when you consider that a high proportion of skier-visits will be crammed into the Olympic period, it's reasonable to expect that tourist traffic on either side of the impending mayhem will be off by significantly more than nine per cent.
Indeed, while Whistler-Blackcomb does not have any firm projections to disclose, PR Manager Christina Moore acknowledges they are planning for a quieter winter than usual since they expect that "Olympic aversion will have a significant effect." To compensate, they have started promoting some pretty attractive deals: discounts in the 40-per-cent range and even going so far as to offer a lowest-price guarantee if you book before November 15 (check Whistler Blackcomb for more details).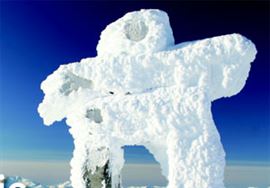 Senior VP Stuart Rempel reminds Canadians about the bottom line: this winter is simply "a once-in-a-lifetime opportunity to share in the Olympic excitement here in Whistler."
Still, if you aren't easily swayed by numbers, discounts or Intrawest-speak, try to look at it from a different angle. If you wait until 2011 to come to town, how will that Whistler experience compare to what you could have had? As the Utah statistics suggest, the post- Olympic winter will likely be busier—back to normal pricing. We also know that starting in 2011, $12 parking charges will be implemented in the village day lots to recoup the costs of paving the lots for the Games. There's also the Warren Miller argument: "If you don't do it this winter, you'll be a year older when you do."
Taken together, this all suggests that contrary to popular belief, and perhaps partly because of it, this coming winter will be the best time to take a Whistler ski vacation. Best of all, I don't need to convince anyone that my conclusions are correct. In fact, the more people who are persuaded by the Olympic misconceptions, the more likely I am to be vindicated. So believe what you like. Either way, I'll be here drinking MSG-laced double-doubles and grande lattes, and enjoying the "crappy" conditions all to myself.