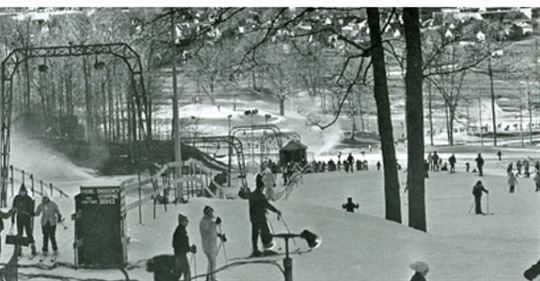 "We had a couple of hundred kids skiing every weekend day," recalls Ron Weston, former manager of Chedoke Ski Area in Hamilton, Ontario, and longtime owner of the longtime iconic ski shop Sam Manson Sporting Goods.
For 40 years the Steel City ran a quintessential "breeder" ski area with three T-bars and a chairlift on Hamilton's piece of the Niagara Escarpment. Two of the slopes were recognizable as part of the contiguous golf course. But one infamous run, the Senior Hill, dropped down steeply through a blasted-out gully in the lip of the limestone escarpment. A short, icy Intermediate run was often adorned with gates where the Chedoke Race Team as well as high school ski teams trained. The Senior was something for the kids to work up to, but the beginner runs are remembered by skiers from the Hamilton area as magic.
Weston recalls the city buses with ski racks on them. "Kids could come from the worst areas of Hamilton and ski for a few dollars," he says.
Sadly, in 2003, The Hamilton Spectator reported it cost the city $250,000 annually to run and a decision was made to stop investing in winter sport and leisure. Union rates paid to city employees at weekend and nighttime rates were given as part of the reason, but Weston also blamed a few bad snow years. For 40 years, though, Chedoke's 87 vertical metres were a mountain of fun for beginners in Hamilton and indeed helped launch the ski careers of several influential professionals in the ski industry across the country.