published week of August 22, 2016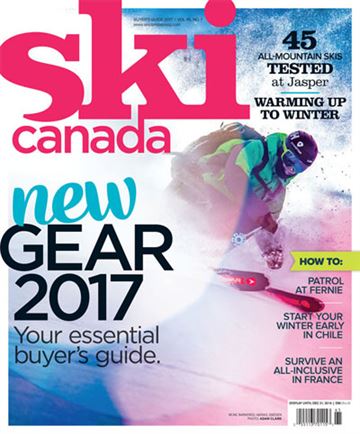 photo: ADAM CLARK * skier: Reine Barkered * snow: Abisko, Sweden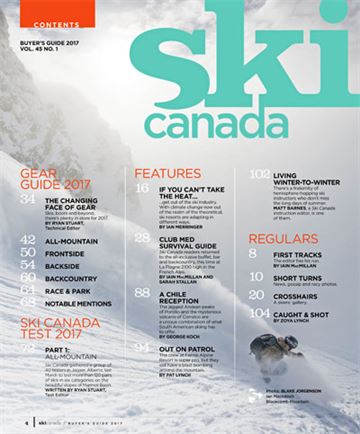 photo: BLAKE JORGENSON * skier: Ian Macintosh * snow: Blackcomb Mountain
GEAR GUIDE 2017
THE CHANGING FACE OF GEAR

Skis, boots and beyond, there's plenty in store for 2017.
By RYAN STUART, Technical Editor
ALL-MOUNTAIN  *  FRONTSIDE  *  BACKSIDE  *  BACKCOUNTRY  *  RACE & PARK  *  NOTABLE MENTIONS
SKI CANADA TEST 2017
Ski Canada gathered a group of 40 testers in Jasper, Alberta, last March to test more than 120 pairs of skis in six categories on the beautiful slopes of Marmot Basin.
 Written by RYAN STUART, Test Editor
FEATURES
IF YOU CAN'T TAKE THE HEAT…
 …get out of the ski industry. With climate change now out of the realm of the theoretical, ski resorts are adapting in different ways.
BY IAN MERRINGER
 CLUB MED SURVIVAL GUIDE
 Ski Canada readers returned to the all-inclusive buffet, bar and backcountry, this time at La Plagne 2100 high in the French Alps.
BY IAIN MacMILLAN AND SARAH STALLAN
A CHILE RECEPTION
The jagged Andean peaks of Portillo and the mysterious volcano of Corralco are a unique combination of what South American skiing has to offer.
BY GEORGE KOCH
OUT ON PATROL
The crew at Fernie Alpine Resort is super pro, but they still have a blast bombing around the mountain.
BY PAT LYNCH
LIVING WINTER-TO-WINTER
There's a fraternity of hemisphere-hopping ski instructors who don't miss the long days of summer.
MATT BARNES, a Ski Canada instruction editor, is one of them.
REGULARS
FIRST TRACKS  Whistler: A New Era  BY IAIN MacMILLAN
 SHORT TURNS  News, gossip and racy photos.
CROSSHAIRS  A skiers' gallery.
 CAUGHT & SHOT     BY Zoya Lynch