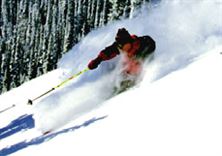 Ooh, ahh, look how deep it is…." And we weren't anywhere near the powder yet. I was cooing over the bathroom.
With a few notable exceptions, you have to drive a long way in B.C.'s backcountry to ?nd a claw-foot tub with a width-deep sandalwood accessory rack, ? nked by California blinds and attractively backlit by recessed pot lighting.
Sumptuous mountain chic. It's evidently a strategy that the Island Lake chiefs have embraced as their own. Over a smooth, slightly peppery bottle of Pinot Noir in the pleasingly minimalist trendy dining room, one of the guests explains the attraction.
"It's nice to be together with a group of friends and not have to worry about where you have to be or where to go for dinner," he says. "You feel like you're camping in a very luxurious way here."
And, of course, the campsite itself must not be forgotten—2,025 skiable hectares (owned, unusually, by the company rather than leased) of prime Lizard Range terrain in the Rockies, with 10 metres of snowfall per year sprinkled all over it. "You don't have to worry about getting ?rst tracks—coming here takes the pressure off."
Pressure—or its absence—is one of the biggest differences people cite between catskiing and heli-skiing. In a cat, you may get where you're going more slowly than in a helicopter—but you still get there. As one long-time heli-skier rather harshly put it: "Helicopters are noisy, cramped and expensive. I can see why people want to go cat-skiing."
Island Lake is located just minutes from downtown Fernie, in the southeastern corner of B.C. Its original investor lineage is impeccable: Scot Schmidt, the late boarder Craig Kelly, Glen Plake and Greg Stump. Started almost 20 years ago, it's now owned by the same company as nearby Powder Cowboy Cat Skiing and Mica Heli Guides near Revelstoke. The names may have changed, however, the terrain that ?rst attracted some of the sport's most revered athletes and photographers remains the same.
"We've got ridgeback, bowl, ridgeback, bowl, ridgeback, bowl, on and on," declares Steve, our lead guide, with a wave of his pole across a few kilometres of crenellated whiteness. Originally from North Vancouver, strapping Steve has been guiding here for nearly 10 years and exudes an aura of authoritative friendliness.
"The old man said I could make a living out of playing hockey but never from skiing," he recalls. So Steve duly quit skiing and moved to Fernie, spending summers tree planting and even enjoying a brief stint living in the Island Lake parking lot—in the days those kinds of things were possible. Finally, enough was enough and he set his cap to becoming a guide. It was a circuitous route but, after the stellar day that he was about to give us, one thing was obvious. The old man oughta be proud.
Steve sits upfront beside the driver in the comfy cat. In the back of the cab our rear guide, Jaimie, chats easily with the group of 12. We're an assortment of skiers and boarders, Americans and Canadians, including a lovely young couple from Toronto who were just engaged the night before. "They are so great up here, they organized the champagne and a private dinner in our room," Graham enthuses. "I had booked it before I'd decided to propose so it wasn't part of the original plan."
The primary plan of everyone here was, of course, the powder. In addition to being newly engaged, Alexis and Graham were also ?rst-time cat-skiers. For both ?rst-timers and old-timers, the Powder Plan was developing beautifully—despite being severely tested by nature.
Thanks to recent heavy dumps—a metre in a matter of hours, not days—the snowpack was unstable, so the guides were having to be extra-cautious and a little creative.
"We're not going to shut down the program," announced Steve. "We're gonna bomb the shit out of it."
During the course of the day, under glorious sunshine and moderate temps, the occasional boom of explosives could be heard in the distance. We head up a snow road to Elevator, a beaut of a long run that will dump us out at the road up to Mount Fernie. All the roads travelled by cat here are man-made in snow, coming and going from the choicest pitches the range has to offer.
Two cats were working different areas of the terrain, delivering us in 10- to 20- minute rides to some of the most perfectly spaced glades I've skied. White Wolf, Hackles, Howling Coyote….. After the invention of various lifts — including, of course, the snowcat itself — man-gladed skiing must be one of the best examples of how machinery can improve the experience. Island Lake's efforts (thanks in no small part to Steve, his mates and a few chain saws) to create the necessary width for easy powder turns, while retaining trees for protection and stability, makes it a dedicated hero-zone. Combine that with an evening of Hungarian Moor Mud Wrapping available in Island Lake's spa and, well, if you can't look good here, you just might need a new hobby.
GETTING THERE: Island Lake is nestled in the Rockies near Fernie, B.C. Calgary is 3-4 hours away. Closest airport is Cranbrook, an hour from Island Lake. Transfers can be arranged from airports. Cat pickup is 3 km north of Hwy 3 near Fernie.
SNOW AND TERRAIN: More than 2,000 hectares of skiable terrain and 10 metres of snow annually. Each day consists of 8-12 runs, approximately 3,500-4,500 vertical metres.
CAPACITY: Maximum 36; 3 cats of 12 skiers and 2 guides each.
RATES: $1,668-$2,550 for 3 days; $2,780- $3,100 for 4 days. Prices include all meals, accommodation and ski/board rental.
MORE INFORMATION: 888/422-8754; Island Lake Lodge