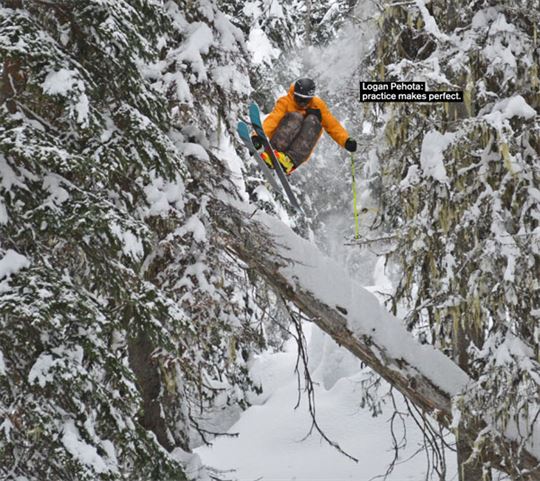 How does one get to ski places like Vallnord-Arcalis (Andorra), Chamonix, Fieberbrunn (Austria), Haines and Verbier all in one season? Start by hucking yourself off a cliff a few thousand times, and then do it while smiling for the judges.
Logan Pehota of Whistler (Pemberton actually and son of one of Canada's first freeskiing stars, Eric Pehota) leads a trio of Canadian rookies, including Lauren Cameron (who also grew up on the slopes of Whistler) and Trace Cooke, with an even more powdery backyard of Whitewater near Nelson, B.C., at the 2016 Swatch Freeride World Tour.
While this issue of Ski Canada was printing in late January, the world's best big-mountain freeriders were descending on the new venue of Vallnord-Arcalis in Andorra and hoping to make it to the fifth and final competition stop in Verbier, Switzerland, April 2–10. [ed. note: Logan Pehota placed second in Men Ski Chapter, Overall Final Ranking – April 3, 2016]
Handling steep terrain, popping big airs and technical tricks, hammering out impressive speeds or a combination are typical concerns of athletes trying to show off the most impressive run. Winning from a purse of more than $500,000 wouldn't be so bad, either.
"There hasn't been a Canadian champion yet, so this could be the year," said Tom Winter, manager for the Americas of the Swatch Freeride World Tour. "It'll be fun to watch them and see what they can accomplish." (The FWT started with 65 athletes from 14 countries.) "Last year we saw just how good some of these young athletes are when the American rookie George Rodney won the overall men's skiing title. I don't think it's a stretch to say that the same thing could happen again this season. This group of young Canadians is very talented; they've worked hard and they deserve their spots on the World Tour. If things go well for them in the first two events and they learn quickly, then there's absolutely no reason why they can't be on the podium at the end of the season. The key will be getting up to speed on the European venues, and adjusting to the level of competition. These kids are smart and good, so I expect them to make the adjustment pretty quickly. There hasn't been a Canadian World Tour champion yet, so this could be the year. It will be fun to watch them and see what they can accomplish."