From Buyer's Guide 2010
Twice Britt Janyk has wanted to storm the Olympic battlements and twice she has not been part of the team. But in February the Olympics are coming to Britt's home hill, to Whistler, and with national team slalom-skiing brother Michael, she hopes to show the world that this is her mountain – the mountain she grew up on chasing Michael and his friends down the slopes.
"I'm the oldest sibling by a year and nine months over Michael, and I think skiing is in our blood," said the 29-year-old Britt. "My mother had been part of the national team. Her father had helped open up Grouse Mountain and helped build the first lifts at Whistler. Mum has a knack for teaching and inspiring, and she's one of the top private instructors at Whistler-Blackcomb."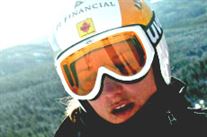 Britt learned the hard way that she had to put more into the World Cup – three seasons ago Britt had to put up $25,000 of her own money to stay with the team after a poor season. She responded to the challenge not only by being the GS national champion at Whistler in March 2007, but by coming through for an FIS race win on the same hill, a 3rd in the Lake Louise downhill at the start of the next season and at Aspen on December 8, 2007, became the first Canadian woman in 14 years to win a World Cup alpine gold in downhill.
Feeling comfortable on their own turf is important to the Janyks. "The Olympics come only once every four years and relatively few people get to compete in it," said Britt. "The neat thing about the Olympics is that you have to lay it out there and trust your abilities and go for it. You can win and win and win on the World Cup, but come the Olympics, it's one run and anybody's day."
Britt missed the 2006 Torino Games because she simply had an off-season. "It was the year that sucked," she said. In 2002, she was the third – best GS skier in the country, but met the qualifying criteria for the Olympic team five days after the deadline. So this time there's a bit of "I want to show them" motivating her. "I'll have a little bit of fight in me. I'll want to prove that this is my Games."
To that end, she is working with technicians and one of the Canadian women's team coaches, Rob Boyd, whom she watched win a World Cup at Whistler when she was 11. "He's good at visualization and mental exercises," she said. "He can take me [mentally] to a calm and relaxed place and talk me through the course. I can do it myself, but it's nice to shut things off and hear a voice take you through the process."
Michael competed at the 2006 Olympics, finishing 17th. His career has had a dramatic upswing since a back injury hampered him and knocked him down to a ranking of 55th at the start of last season. However, he enjoyed four of his 19 career top – 10s after Christmas and capped that with a bronze in the 2009 World Championships at Val d'Isère, France.
"I knew there would be a lot of guys that would be nervous about the hill at Val d'Isère and if I were able to push past that, I would have my advantage," Michael said. "It's not the fact that I won a medal, it's that I won it my comeback season. I proved a lot to myself this year about my commitment and desire to win and I'll be taking that forward to the Olympics."
The familiarity of the Whistler terrain is important to Michael and his sister, even though the town will be wrapped in the Olympic security bubble. "Hopefully, it will have that comfort level where you can get relaxed and perform," he said. "You know some things are going to be different, but you look across the valley and you see the same peaks and the same mountain and the same runs that go down. That kind of familiarity is all there, which makes it feel like home."
And, he hopes, makes Canada's first family of skiing the Olympic Games' first family.