RYAN REPORT // November 6, 2017 // By Ryan Stuart
---
There's lots of citizen science projects out there. Bird counts, water sampling, sifting through data and scanning pictures have all helped scientists with their research. Now your backcountry ski missions can help too.
Mountain Hub , an app designed to track and log backcountry adventures, has partnered with a handful of organizations to provide data on travel in the backcountry, snow depths and risk tolerance to help advocate for private land, better forecast spring runoff and make the backcountry safer.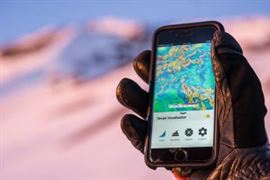 Data For Good works like this: after downloading the app users fire it up as they head out on their backcountry ski trip. Mountain Hub works like Strava and other tracking apps, recording the user's route using a smartphone's GPS and other location data. If the skiers dig a snowpit or make other observations on conditions, things they see, etc. they can note their findings in the app. After the trip Mountain Hub scrubs the information for anything that personalizes it and then passes it on to different groups and scientists to help them with their work. (There is always the option to keep Mountain Hub data private.)
Most of the Mountain Hub partners are U.S. organizations. The Outdoor Alliance uses app data to show use statistics to advocate for public access to wilderness areas. Similarly the US Forest Service uses the data to help plan resource use on public lands. Several avalanche forecasting outfits use submitted data to help build forecasts.
Cross border initiatives include a researcher at Montana State University using the data to better understand risk tolerance and decision making in the backcountry. After ski touring data is logged into the app he sends anonymous surveys to find out more about decisions and group dynamics made on the trip. And Leave No Trace is working with Mountain Hub to promote their core principles of leaving the backcountry cleaner than when you set out.
To find out more about the initiatives and the Mountain Hub app go to https://mountainhub.com
RYAN REPORT is a frequent web post by Ski Canada magazine's technical editor, Ryan Stuart.