It's fun to live vicariously through ski writers and photographers. This season you might just want to take it a step further and join one of them.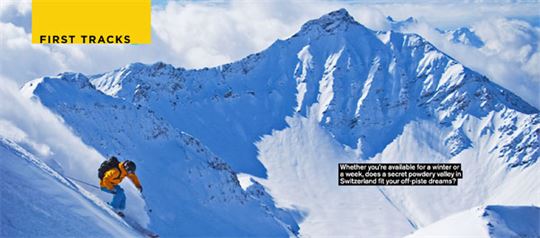 I don't personally know anyone, apart from Leslie Woit, who's skied more places in the Alps than long-time Ski Canada contributor George Koch. As a teenager in the '80s, George managed to finish high school early just so he could ski bum for the winter in St. Anton, Austria.
"I learned a lot about terrain and snow and how to live on my own," says George. In the end, he managed to put in two more seasons of "sabbaticals" in France and Austria while earning his university degrees. Needless to say, his lifelong off-piste passion is rooted in these winters abroad.
With 2016-17 marking 30 years since his last winter away, George and girlfriend Cindy have chosen the mythical freeriders' paradise of Disentis, Switzerland, to spend five months, where he plans to manage a cozy little onslope hotel, Lodge Sax—and ski a lot on breaks. George discovered Disentis 12 years ago and for obvious reasons has made repeated return pilgrimages. This year, a group of Ski Canada readers and I have decided to join him the third week of February (click for details).
Referring to his long-ago ski bumming days, George jokes, "I guess I call it strategic career planning." After co-managing a Calgary-based corporate communications business with his late wife Laurie for decades, with twice the staff of Lodge Sax, George is looking forward to collecting and returning guests to the train station, answering questions, solving problems and, of course, skiing with guests. Thinking back to his teenage days of instructing during the day and working in restaurants at night, he mutters, "If I knew then what I know now…"
How will it feel going from pampered travel writer to being on the other side of the bar or kitchen or maid's cart? "I hope it's not a shock, more of an interesting adventure," says George. "My goal is to make Lodge Sax warm and welcoming, a true haven that exudes skiing from every pore. I'm going to use all my knowledge of the terrain and the region to help every guest find great skiing experiences from their first day onward." As well, the hotel is linked in with Paul Degonda, one of the region's most experienced mountain guides, and his crew.
The Swedish-Swiss owner of the lodge, Jan Pfister, was a travel guide and drinking buddy of George's in the '80s, and it was only when George reconnected with Jan and his wife and two boys while ski-touring Disentis's spectacular backcountry last winter that the idea of managing Jan's hotel arose.
If you want to find secret freerider playgrounds in the Alps, follow a Swede. You're not too late to discover Jan Pfister's isolated part of the Rhine Valley in Switzerland's Graubünden canton. Locals not only speak Romansch here, they have their own Sursilvan dialect—and they're happy to share their backcountry.
"The terrain here is shaped for peak-to-valley descents," says George of Disentis's physical attributes. "All of the immediately accessible off-piste leads you into valleys that return you to the main cable car—there's none of this half- or third-of-a-mountain laps like at most resorts.
"The relatively small number of lifts moves you a staggering vertical distance over sprawling terrain. There are ridges and valleys everywhere, with minimal hiking. If 1,600 vertical metres isn't enough, you can add skins and you're doing 2,000 or more," he adds dreamily. And one of the best parts is that there's typically no cross-country trek to get back home.
Reminding me of a wonderful weekend of big-mountain freeriding in another lost Swiss valley, Lötschental, I conveniently set our Disentis week to coincide with most university Reading Weeks in Canada so my No. 2 kid, and others like us, would be able to join in. I also worked off-piste guiding into the Ski Canada program on some days. But it doesn't have to be a daddy-daughter exclusive off-piste week. The six-day Surselva lift pass also includes resorts up and down the valley like Sedrun, Andermatt, Vals, Brigels, Obersaxon, Flims and Laax. "You're talking 70 lifts on one pass with terrain of every kind, including hundreds of kilometres of groomed runs," reminds George. "A couple or a family of intermediates can head off on a short ride by train or bus for a different adventure every day."
Whether your winter 2017 trip is a gear-packed minivan heading to the hills full of kids or buddies, or a secret powder stash across the Atlantic, planning and anticipating the annual ski trip has begun.