Short Turns // September 12, 2017 // By Leslie Woit
---
Tatum Monod, launched herself off a near-vertical Alaskan peak, hit an unanticipated hard landing and cartwheeled down the long mountain face
When one of Canada's Red Bull- (and The North Face-) sponsored skiers, 26-year-old Tatum Monod, launched herself off a near-vertical Alaskan peak, hit an unanticipated hard landing and cartwheeled down the long mountain face, her plans for the next year or so changed in a split second. Her torn ACL, partially torn MCL, meniscus tear and bone bruises would require surgery and long, dedicated rehab.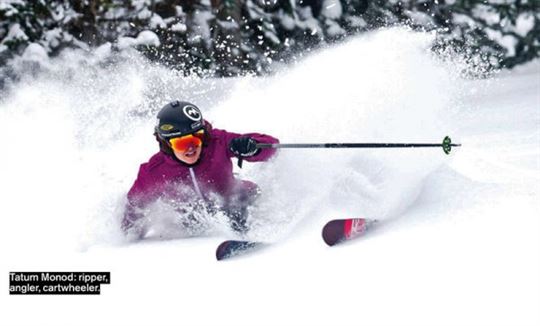 Turns out the place to go—in addition to the surgery of world-respected Dr. Heard of Banff—is Fortius Sport & Health in Burnaby, B.C. The massive integrated athlete development centre is rehab heaven, right on the doorstep of B.C.'s Coast Mountains. Home to a state-of-the-art training centre, FIFA-standard turf pitch, an NBA/FIBA/collegiate lined gymnasium, sport science lab and sport medicine institute. It even comes with 50-room accommodation.
"I would have seen 10 of the Red Bull Canada athletes for various injuries or consultations in the last year," said Damien Moroney, Director of Rehabilitation and Performance Integration. "In the last month, I have had three skiers, two snowboarders and a freestyle motocross athlete from Red Bull come out to Fortius for evaluation, rehabilitation or performance training."
Not only patronized by Red Bull athletes, Fortius is also accessible to mortals like us, and anyone keen on getting back to their best. The "Same Door" philosophy means everyone from developing and recreational to Olympic and professional athletes have access to the same team of sport and exercise science and medicine practitioners, all under one roof.
In the meantime, Tatum is recovering well and her latest film, The Line, takes us to a secret stash somewhere in Alberta's Bow Valley—but not on skis. She's flyfishing a river known only to her and her father Peter Monod (and The North Face film crew, sworn to silence). Getting Peter, an ex-national team skier and owner of Banff's much-loved Monod Sports, to reveal the whereabouts of his magic pool is as tricky as one of these Alaskan descents. Proceed with extreme caution….