It's just after 10:00 a.m. at the Sunburst Lodge at Sun Peaks and the teenage racing throng is lining up for another warm-and-sticky cinnamon bun break. With fingers too gooey to text anyone on their phones, the catsuits discuss everything from the morning's coaching to last night's shenanigans, unaware how much earlier bakers down at Bento's in the village Day Lodge had to rise to prepare the dough with butter, brown sugar and a few other secret ingredients. Each morning, about half-a-dozen pans of this sweet energy are sent up the mountain to rise and be cooked into award-winning bakery goods.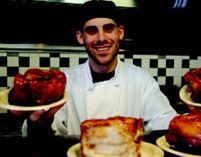 Back in December when one of those -200 arctic fronts settled over parts of Western Canada and WestJet was offering some cheap pre-Christmas, post-big- November-snowstorm flights to skiers, I headed out to Sun Peaks on a three-day warmup to winter. Combined with B.C.'s time difference, a 7:15 morning flight from Toronto gets you into Calgary and onwards to Kamloops just as the first batch of Bento's cinnamon buns are wooing skiers into the Sunburst and Day lodges.
Even with the bag collection and 40-minute shuttle to the mountain, you can still be skiing before lunch. And anyone who's flown in that morning need only show his or her boarding pass for a free lift ticket in today's no-time-for-a-holiday world, that's surely material for a Best of Skiing award.
I hadn't been to Sun Peaks since 2002 and the changes were immediately obvious, with a nicely filled-in village of hotels, shops and restaurants – very Colorado-like. In a resort with so much condo accommodation, it's refreshing to see how many eateries with widely varying fare now exist. Most improved dining choices?
In case you didn't read everything written on the cover this month, aside from a little event going on in Vancouver and Whistler in February, this is our 16th annual Best of Skiing in Canada issue recognizing all sorts of worthy people, places and things within Canadian ski country. We long ago recognized the infallibility of online polling for winners within the ski industry, and were quickly tired of a handful of ski areas and resorts holding title to everything when we used hard numbers and even more tired with bickering over softer numbers like who has the most or best snowfall. So that's why we prefer to rely on reader anecdotes, observations of contributors and staff as well as reliable gossip from friends sent in to the magazine over the year to create our awards.
Our look at the Best of Skiing in Canada begins on page 22 this issue. And when you're skiing this winter, take a few notes and send us some nominations.