Baldy Mountain Resort, or simply "Baldy" to the residents of Oliver and Osoyoos in B.C.'s South Okanagan, is experiencing a rebirth this season.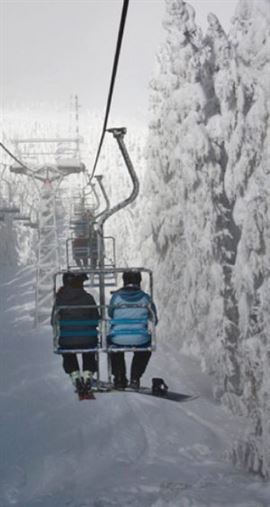 Founded in 1968, the ski area has been a hidden gem for those in the know, famous for Powder Fridays (when the lifts only opened on weekends) and the awesome snow ghosts at the mountain's 2,400-metre summit.
There's an old ski industry joke that says, "How do you make a million bucks in the ski industry?" The answer: "You start with $5 million." Managing Director (Maritimer and ex-Alpine Canada COO) Joey O'Brien, and a group of keen investors, are determined to prove that saying wrong. They started by tackling 10 years of deferred maintenance: rebuilding lifts, purchasing grooming equipment and upgrading the lodge infrastructure. According to O'Brien, they've completed the must-do list, moved on to the should-do's and might even get to a few nice-to-do's.
The resort will be operating seven days a week from December 1st onward. Skiers looking for an alternative to the mega-resort experience will want to try Baldy's uncrowded slopes, mid-week pow and one of O'Brien's famous burgers. skibaldy.com