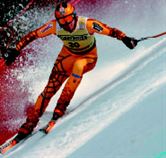 Let the numbers do the talking.
Canada's top alpine exponents won a record 14 medals on the World Cup circuit last season, solving the riddle of inconsistent snow conditions time after time. Twelve of the podiums were gained on the men's side, including two golds. Jan Hudec added a World Championship silver in what is historically Canada's signature event, the downhill. They've discovered they can see the top of the world from a podium.
The men's side averages 24 years of age. The women are slightly younger and anticipating new blood. But together they should be at their prime in 2010—and as competitive with each other as they are with the rest of the world.
The target for Alpine Canada is to be the top skiing nation in the world at Whistler in 2010. The vision originally articulated by Alpine Canada in 2004 was four medals (the possible elimination of super-G as a medal competition by FIS could revise that).
Sounds good, but before you get giddy, here are some sobering stats: Norway's Aksel Lund Svindal racked up points in 32 of the 36 World Cup races he entered, including ?ve wins. Austria's Benjamin Raich won six times last year. On the women's side, Renate Goetschl won eight times, twice on a cracked ?bula. Slalom specialist Marlies Schild also won eight races. That's the level of performance Alpine Canada is trying to engineer. At the World Championships in Åre, Sweden, where Canadians missed the podium ?ve times by .06 of a second or less, the need for that internal spark was driven home.
"We've got to build that depth because ?nishing 15th isn't good enough," Read said. "We've got to have the push within so that the athletes themselves realize that if you ?nish 15th, you're going to be standing on the sidelines. That's the big difference right there."
Canadians did ?nish with a ?ourish, with seven of their podium visits coming in February and March, starting with Hudec's World Championship silver. Success is infectious.
Michael Janyk registered eight top- 10 ?nishes in World Cups and World Championships last season. His best was a silver in slalom at Beaver Creek, Colorado. "We're not just looking at the podium, but to be on top of the podium," Janyk said. "It's cool to be on a team like this."
"The work's not done. I always say 'we're getting there,'" Read commented at the end of the season. "We're not where we want to be ? nishing. This is a waystation to where we want to go."
Eight Canadian skiers mounted World Cup podiums in a landmark season that surpassed the World Cup exploits of the Crazy Canucks in 1982. Guay and slalom specialist Thomas Grandi now have nine podiums each, tied as the third most successful Canadian male skiers behind Steve Podborski (20) and Read (14). Grandi retired last season after 14 years on the World Cup circuit, counting two GS wins among his nine podiums.
As the Olympics near, Alpine Canada has built a program that will get Canadians familiar with the venues and with dealing with the pressure of being a home favourite. The Canadian Championships last year were at Whistler, using the course that will be home to the men's Olympic downhill. Whistler and Panorama Mountain will join Lake Louise on the World Cup calendar as Canada's inventory of World Cup stops triples in 2007-08.